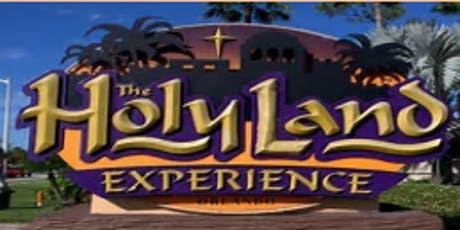 Holy Land Experience (Women Only)
November 3rd, 2018
$120
The Sisterhood is hosting a Fall trip to Orlando for a day at the Holy Land Experience, Saturday, November 3, 2018. The Holy Land Experience brings the Bible to life through top notch entertainment, interactive story-telling and showcasing rare Biblical artifacts not seen anywhere else! Enjoy the exhibits, live shows and gift shops when you take the trip to the Holy Land Experience.
The price for the trip is $120 which includes:
Round-trip transportation in a 58-passenger air-conditioned motor coach
Admission to the Holy Land Experience
A full day of one-time and multiple-time shows throughout the day
Buffet all-you-can-eat dinner at the Golden Corral
Driver gratuity
(Lunch is not included; budget for $15-$20)
Itinerary:
Departure from TAK will be 6:30 am.
Park arrival: 10 am; leave park: 4 pm
Return to Ft. Lauderdale departure: 6 pm to arrive back at TAK between 9:30-10 pm, Saturday evening.
$25 non-refundable reservation deposit is needed, beginning Friday, April 27, 2018 as seating is limited to 58 passengers.
Payment in full will be due by Saturday, September 29, 2018.
Reserve your seat now!
Remember to wear comfortable shoes and be prepared for a full day of fun and spirit-filled education!!