Rock the Universe
June 8th - August 3rd, 2018
$200 - $496
TAK's Kingdom Youth will be Rockin' the Universe at Universal Studios Orlando! Rock, Ride and Rejoice to powerful tunes by amazing performers like Chris Tomlin, Lecrae, For King and Country, Thousand Foot Krutch, and Lauren Daigle plus more. It's an unforgettable weekend of faith and fun.
Trip available to all youth 9th grade and up (based on grade entering the 2017-2018 school year) who have been a part of TAK's Kingdom Youth for at least 3 consecutive months.
Date of Trip: September 7th – 9th
Departure Time: Sept. 7th at 5:00am;
Arrival Time: 9:00am, Universal Studio;
Return Time: 3:00pm, Sept. 9th
Location of Trip: Universal Studios Orlando
Hotel Accommodations: Cabana Bay Beach Resort
Phone: Taylor @ 954-336-6353
Method of Travel: Rental Van/Car;
Driver(s): Rabbi Joe Vitkus, Mike Sloan
King Jesus Youth Conference
July 27th - July 28th, 2018
$50
Chosen Generation Conference (CGC) is an event that lifts a remnant, a generation that cries out for the presence of God. It is a conference where a burning passion is kindled by the love of the Father. It is not just a revival but an exponential effect causing a global impact, awakening every young man and woman to lift the church of Christ with the supernatural power of God.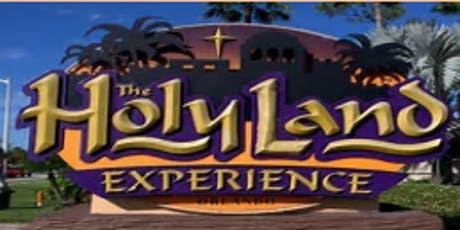 Holy Land Experience (Women Only)
November 3rd, 2018
$120
The Sisterhood is hosting a Fall trip to Orlando for a day at the Holy Land Experience, Saturday, November 3, 2018. The Holy Land Experience brings the Bible to life through top notch entertainment, interactive story-telling and showcasing rare Biblical artifacts not seen anywhere else! Enjoy the exhibits, live shows and gift shops when you take the trip to the Holy Land Experience.
The price for the trip is $120 which includes:
Round-trip transportation in a 58-passenger air-conditioned motor coach
Admission to the Holy Land Experience
A full day of one-time and multiple-time shows throughout the day
Buffet all-you-can-eat dinner at the Golden Corral
Driver gratuity
(Lunch is not included; budget for $15-$20)
Itinerary:
Departure from TAK will be 6:30 am.
Park arrival: 10 am; leave park: 4 pm
Return to Ft. Lauderdale departure: 6 pm to arrive back at TAK between 9:30-10 pm, Saturday evening.
$25 non-refundable reservation deposit is needed, beginning Friday, April 27, 2018 as seating is limited to 58 passengers.
Payment in full will be due by Saturday, September 29, 2018.
Reserve your seat now!
Remember to wear comfortable shoes and be prepared for a full day of fun and spirit-filled education!!